Welcome to Fastlane Sailing & Kayaking

The Fishn' Mission is the best way to get introduced to the growing sport of kayak fishing. Fastlane provides you with a Hobie MIrageDrive kayak and all the gear needed for a morning out on the water-- all you supply is a valid CA State fishing license. For only $100, our guides will take you on a tour of Mission Bay and get you hooked up with some ferocious spotted bay bass. Once we're done, we all head back to the docks for a sandwich lunch and a little show-n-tell of the days catch.
Fishn' Missions will be held every Sunday in April and May. Call now to save yourself a spot on one of the trips, spots fill up quickly. Hope to see you out there!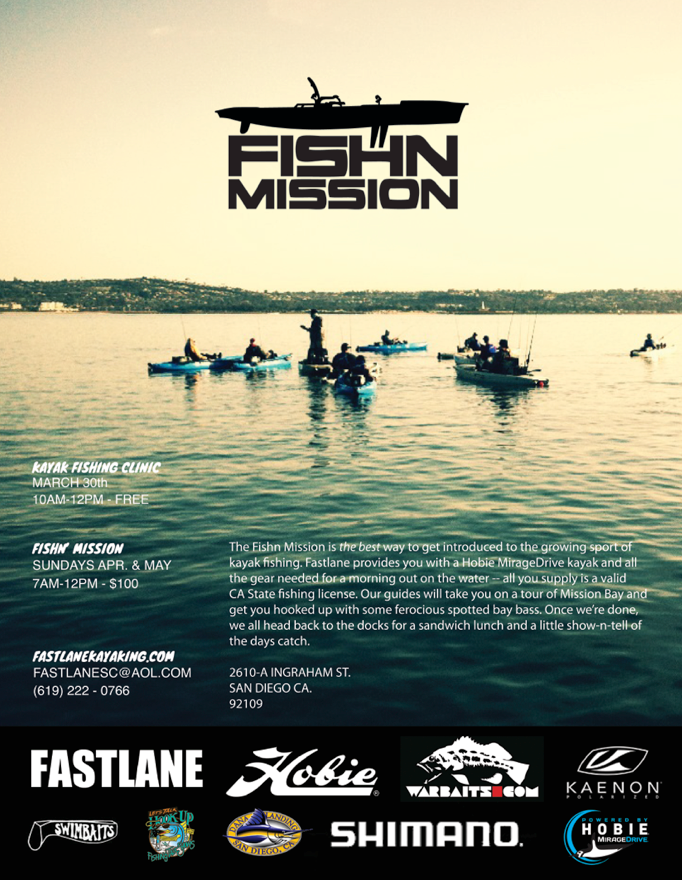 STORE HOURS & CONTACT INFO:
Monday-Friday 10am - 5:30pm
Saturday 9am - 5:30pm
Sunday 12pm - 4pm
Call: (619) 222 - 0766
Email: fastlanesc@aol.com
Email is a great way for us to keep you up to date with the latest shop events, special deals and news from Fastlane. Plus, if you like what you see you can easily forward it to a friend! To subscribe click 
>> here <<
.